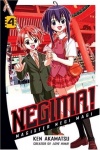 Ken Akamatsu's Negima Vol. 4 published by Del Rey has sold more copies in bookstores 2005 than any other graphic novel, although you wouldn't know it by looking a the BookScan graphic novel list since it is not there. The fact that Negima Vol. 4 is on BookScan's Children's Book list rather than the graphic novel list is not without its irony given the controversy that accompanied the U.S. publication of the first volume in the series (see 'Del Rey Won't Alter Negima Manga'). All previous volumes of Negima have been listed on the graphic novel chart.
The latest volume in Akamatsu's newest series scored one of the most impressive manga debuts in years two weeks ago, selling some 5,700 copies in its opening week. In its second week of release the book sold more than 3,400 copies giving it an impressive total of over 9,000 copies in just two weeks and more than enough to give it the top spot on the graphic novel charts for two weeks in a row.
The previous volume of Negima topped the charts back in October (see 'Negima Tops Bookstore GN Chart') and the sexy comedy series appears to be gaining momentum. Akamatsu's previous series, Love Hina, dominated bookstore graphic novel sales (along with Clamp's Chobits) back in 2003 and it appears that Negima could be poised to duplicate that feat in 2005.
Second place for the week ending January 9th belongs to Rurouni Kenshin Vol. 10 (Viz) followed by Fruits Basket Vol. 6 (Tokyopop). Yu Watase's Imadoki (Viz) was a strong third followed by Hellsing Vol. 5 from Dark Horse.
Viz had three other titles in the Top 10, Rurouni Kenshin Vol. 9 at #5, the Yu-Gi-Oh! The Movie Ani Manga at #7, and Naruto Vol. 5 at #8. Other Tokyopop titles in the Top Ten include DN Angel Vol. 5 at #6, .hack: Legend of the Twilight Vol. 3 at #9, and Saiyuki Vol. 6 at #10.
Two new series from Del Rey that debuted last fall appear to be establishing themselves as top tier titles: Wallflower Vol. 2 grabbed the eleventh spot, while Othello Vol. 2 came in fourteenth.
With holiday sales over, manga's domination of graphic novel sales in bookstores reasserted itself once again. The first non-manga title on the list was Marjane Satrapi's Persepolis, which came in at number 29.