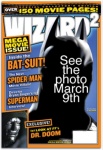 Wizard Entertainment will release a special extra issue of Wizard: The Comics Magazine on Wednesday March 9th. The Wizard Mega Movie Extra (#162B) will focus on comic book-inspired films and will be shipped to all Diamond accounts in amounts that will match their orders for Wizard #162. The Mega Movie Extra will be returnable, but given the number of key superhero films either in production or arriving this year, retailers probably won't be sending very many issues back.
Among the key movie-related articles are: a nine-page interview with director Bryan Singer about his new Superman film and why he left the X-Men films; a visit to the set of the Fantastic Four film with the first in-depth look at Dr. Doom; an interview with Spider-Man director Sam Raimi about Spider-Man 3; new photos and key information about the highly anticipated Batman Begins; a survey of top comic book movie debates; comments from top comic book creators about their favorite comic movie memories; and a 7-page price guide devoted to the most valuable and obscure comic movie props and paraphernalia ever.
In addition to all this movie coverage, the magazine also includes 'Wizard Edge,' The Indie Comics Magazine, which returns as a special 20-page bonus section in the Wizard Mega Movie Extra, which has a cover price of $4.99.