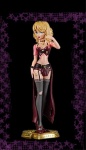 Bleeding Edge, the L.A.-based, cutting edge collectible doll manufacturer is launching a line of 12-inch fashion dolls and 7-inch vinyl dolls based on the Tokyopop property Princess Ai created by Courtney Love, writer D.J. Milky and manga-ka Ai Yazawa (Paradise Kiss).
Tokyopop is planning to release the second volume in the series, Princess Ai: Lumination in July. Bleeding Edge plans to include a sampler from the Princess Ai: Lumination manga with every Princess Ai doll (along with the character's signature ripped stockings and mysterious locket). Meanwhile Tokyopop will be cross-promoting the Princess Ai dolls with feature pages in Princess Ai: Lumination depicting the process of designing, sculpting and manufacturing the dolls.
Other new Princess Ai merchandise set to debut in the near future includes posters from Starmakers, bookmarks from Antioch, T-shirts from Imprezzion and calendars from Andrews McMeel.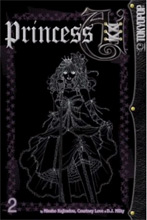 The first volume of the goth-tinged Princess Ai manga series, which was published in 2004, made it to #1 on the Nielsen BookScan survey of graphic novel sales in bookstores. The second volume, which is slated for a July release, will bring Tokyopop's total of graphic novel releases to one thousand (which translates into 28 million Tokyopop volumes in print) -- and Tokyopop is planning a cosplay contest at the San Diego Comic-Con on July 16th to celebrate.