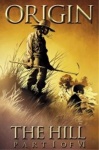 At today's Marvel Press Conference, President and COO Bill Jemas announced that pre-orders for Marvel's October books were the highest (both in dollar and unit terms) since December of 1996, when the numbers were buoyed by the Onslaught crossover with DC. Even more impressive than the best-in-five-year totals themselves was the fact that Marvel did it this time with just 55 titles shipping in October versus the 87 titles solicited in December of 1996. As Jemas pointed out several times during the press conference, profitability in publishing depends in large part on sales per title, which of course makes Marvel's October performance look even better. When asked by Charles Brownstein of the Splash why Marvel's publishing revenues from the first half of this year were only up marginally from 2000, Jemas hinted that the total year performance would be better, and noted that if the second quarter was adjusted for the absence of the $1.4 million in publishing revenue that the X-Men movie brought in during the second quarter of 2000, the numbers would look very good.
Reorders
When asked by ICv2 about numbers recently released by Diamond that show a 6% share swing between Marvel and DC when comic product, including reorders, that actually shipped in July was tabulated (as opposed to what was pre-ordered for July -- see 'Diamond Releases Comic Shipment Marketshares'), Jemas stated that he wasn't familiar with those numbers, but that ' Absolutely, we are never going to overprint. I will debate this until the cows come home but we are not going to overprint and we are not going to reprint. What we are going to do is to drive traffic to comic stores every Wednesday. Go to a comic shop today and see how many people are waiting until Saturday to get their Origin book. We are not overprinting. We are not reprinting. We are trying to keep the industry healthy and this is doing it.
Jemas continued, 'Any retailer will tell you that reorders are not a substantial part of their business except on trade paperbacks -- and the fact is that the trade paperback business has really been given a shot in the arm by the no reprint policy. But believe me nobody is waiting around for the Origin 1-6 compilation. That's not what's happening -- there's a feeding frenzy now, and there wouldn't be a feeding frenzy if people knew we were going back to press on a leisurely basis. What you have is store traffic -- like any other business, store traffic means more sales.'
Bill Jemas, Comic Scribe
When asked about the NYX comic that he has been rumored to be writing, Jemas noted that at this time he was in the midst of working on the rules for the Marvel Recharge Collectible Card Game, but when that project heads off to the printers in about three weeks, he will turn his attention to the NYX comic: 'I am going to tell you the truth. I am going to write the damn thing. I've written a lot of plots since I have been here and I have lobbed a lot of creative hand grenades, but I have never actually done a full script. I am going to write it and you will know whether it's good or not by whether it sees the light of day. It's a title that I have had boiling around in my brain since the month I got here. I think it's going to be fun to write, whether it's fun to read remains to be seen.'
Marvel Shojo?
In response to a question about a shojo-style Marvel title aimed at teenage girls, Jemas stated that he does have a 'top notch creative team' working on a teen soap opera style book for girls, but no decisions have been made about the art style, though it did not sound like that Jemas was sold on a manga-influenced book since he criticized publishers who 'slapped an anime art style' on top of traditional American storytelling techniques.
'Nuff Said'
The title for Marvel's experiment (due in December) with purely visual narrative will be the classic Marvel phrase, 'Nuff Said.'
Smoking in Marvel Comics
Joe Quesada confirmed that Marvel no longer wants any Marvel character 'who kids identify with' to be seen smoking. When asked why Marvel was cracking down on 'coffin nails' in comics, Jemas quipped, 'We're told that smoking causes cancer.' Quesada explained that if Nick Fury appears in a Fantastic Four issue, it will be sans cigar, but he will be able to tar his lungs in the 'Mature Readers' Max line.
Miracleman
Quesada promised that some sort of answer about the possibility of reprinting this classic series would be forthcoming within in the 'next couple of weeks.'
Licensing
Quesada said that the new regime at Marvel is not averse to creating comics based on licensed, non-Marvel properties.

In fact, he hinted that Marvel was looking at some very big licenses for its juvenile line, though he declined any comment on the possibility of doing a Harry Potter comic.

Quesada noted that two of his priorities for the next year were getting a creator-owned lineup of comics up and running, and the even more difficult task of creating a viable young readers line.