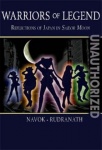 Genvid LLC, has announced the publication of Warriors of Legend: Reflections of Japan in Sailor Moon, an innovative volume that turns Japanese cultural study on its head by showing how Sailor Moon creator Naoko Takeuchi took the city and society around her and used it to shape a multi-billion dollar franchise. The 148-page volume (cover price $12.99) provides an accessible introduction to Japanese culture for neophyte manga readers, while still furnishing plenty of insights those who consider themselves Japanese culture mavens and allowing even the most veteran American otaku the chance to test their Sailor Moon IQ.
The authors of Warriors of Legend: Reflections of Japan in Sailor Moon include Jonathan Mays, Senior Editor of the authoritative Anime News Network, Jay Navok, who holds a Masters Degree in East Asia studies from Columbia University, and Sushil K. Rudranath, who has law and political science degrees from the University of Florida.
Warriors of Legend should delight hardcore anime/manga fans, and although Toei and Kodansha have yet to renew American licenses for the Sailor Moon anime and manga respectively, when the property is re-launched in the U.S., this volume should be an indispensable guide for those who want to get more than just the entertainment of great storytelling from a manga series, whose success in bookstores here during the turn-of-the-century was one of the key events underpinning the current manga boom. Retailers can order Warriors of Legend from BookSurge Direct.