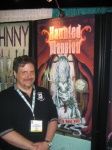 SLG Publishing founder and president Dan Vado told ICv2 he was 'ecstatic' about an agreement with the Walt Disney Company, which will allow SLG to create a number of comic book series based on Disney properties. The four titles announced at the Book Expo America show in New York include Haunted Mansion (based on the theme park ride), Gargoyles (taken from the animated TV series), Wonderland (a follow-up to the Disney animated feature Alice in Wonderland), and Tron (based on the innovative feature film about characters trapped in a computer).
Haunted Mansion, which is due out in the fall, will be the first of the new SLG/Disney comics. The bi-monthly black-and-white comic anthology will feature stories about the various characters from the Haunted Mansion thrill rides at Disneyland and Disney World and will have a cover price of $2.95. A backstory that doesn't currently exist for the property will be will be developed as part of the creation of the comics.
All the SLG Disney titles will feature ISBNs and will be collected into graphic novel compilations. SLG has plans to sell both the comics and graphic novels at Disney parks and specialty retail chains as well as via the direct market, while making the graphic novel collections available to bookstores as well.
The SLG Gargoyles comic series will feature contributions from the creators of the 36-episode Gargoyles animated series, who came to Disney with the idea of creating a Gargoyles comic book and were referred to SLG. The bi-monthly Gargoyles comic series will launch in December or January as a full color comic with a 3.50 cover price.
The Wonderland comic book will take place after the events created by Lewis Carroll in his immortal Alice in Wonderland children's classic and will feature the colorful, sumptuous and smooth renderings of the characters used in the Disney animated Alice in Wonderland feature film from 1951. The full color Wonderland comic should debut in the spring of 2006.
SLG's full color Tron comic series, which is based on the Tron feature film from 1982, is also due out in the spring of 2006 and will follow the further adventures of a game designer who is sucked into a giant mainframe computer and has to navigate through the strange digital world.