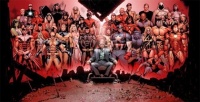 Marvel's sold-out House of M #1 was supported by the biggest marketing push for a Marvel product in years, according to Marvel Director of Sales David Gabriel. The campaign paid off with sales of over 200,000 copies on House of M #1 in May alone. The book is going back to press this month for a second printing with a gatefold cover featuring the poster art by Olivier Coipel.
Marvel's marketing for the book kicked off in March with house ads, which were followed by an 11' x 18' p.o.p. poster that shipped in April. In mid-April, Marvel also announced an incentive discount for retailers (3% for orders greater than New Avengers') that 'helped a great deal,' according to Gabriel. The initial numbers on the book were 'huge,' the largest first run on a Marvel book in over two years.
After the final order cut-off date, marketing continued. A second, 24' x 36', p.o.p. poster shipped to retailers. And the biggest element of the marketing campaign was the 500,000 free copies of a sketchbook promo book that shipped the last week of April (just in time for Free Comic Book Day). The 12 pages included sketch art from interior and cover pages. Gabriel said the book was 'received very well.'
This expanded use of marketing to support launches will now go into Marvel's repertoire, and will probably be used at least once a year.

The next project likely to get this treatment is a Spider-Man project launching in October.