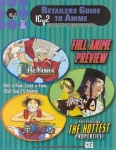 In issue #11 of the Retailers Guide to Anime/Manga published this month by ICv2, we took note of the increasing competition for rack space created by the enormous expansion of the number of new DVD releases, particularly DVDs based on television series. With the number of releases growing faster than DVD sales (which have plateaued in recent months) something had to give. In the case of the giant Target chain of discount department stores, anime took the hit with the stylish chain planning to eliminate most anime skus by this fall. On the other side of the ledger the Best Buy chain is taking room from its CD section to add more TV series and anime DVDs.
The 'win a few, lose a few' leitmotif extends to the category of anime magazines where the disappearance of Animerica is countered by Anime Insider's move to monthly publication, and to the all-important exposure of anime on American TV where the loss of the daily Kids WB block, which helped make Pokemon and Yu-Gi-Oh! huge hits, was balanced by the Cartoon Network's acquisition of Naruto, which has the potential to become the Full Metal Alchemist of 2006. The Top Ten Anime Properties at mid-year as determined by ICv2 are:
1. Nauscicaa: Valley of the Wind
2. Inuyasha
3. Appleseed
4. Yu-Gi-Oh! The Movie
5. Ghost in the Shell: Innocence
6. Full Metal Alchemist
7. DBZ: The Movie -- Broly's Second Coming
8. The Cat Returns
9. Porco Rosso
10.Samurai Champloo
On the manga side two trends were increasing evident during the first half of 2005 -- the rise of gay themed yaoi manga (male on male love stories written and drawn by women creators for a female audience) and the increasing popularity of what might be fairly called 'international' manga, in which some or all of the creators are not Japanese. Dark Horse's Megatokyo (by Fred Gallagher) remains the most popular example of homegrown manga, but Tokyopop's insistent efforts to find and promote new talent through its Rising Stars of Manga promotions is paying off as are its attempts to enlist professional U.S. comic writers and artists such as Richard Knaak (Warcraft), Keith Giffen (I Luv Halloween) and Greg Hildebrandt (War on Flesh). Though the Giffen and Hildebrandt titles won't ship until later in the year, Warcraft has been a resounding success as has Sokora Refugees and the Courtney Love-created Princess Ai. The Top Ten Manga Properties at mid-year as judged by ICv2 are:
1. Fruits Basket
2. Full Metal Alchemist
3. Rurouni Kenshin
4. Naruto
5. Tsubasa
6. Negima
7. D.N. Angel
8. Inuyasha
9. Yu-Gi-Oh!
10. Bleach
For the full list of top anime and manga properties along with in-depth market analysis, and previews of all the top anime and manga launches see the magazine (for information on how to obtain you copy see 'ICv2 Releases Retailers Guide to Anime/Manga #11').