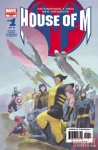 Marvel's summer comic crossover event, House of M, got off to a brilliant start in June, supported by a major marketing push (see ''House of M' Got Biggest Marvel Marketing Push in Years'), with the first issue selling more than 233,000 copies in North American comic stores serviced by Diamond. The second issue of House of M came in a fairly distant second at nearly 169,000 followed by another killer Bendis title, New Avengers #6, which dropped only a fraction in sales from issue #5, which topped our charts in April. The second issue of DC's revamped Green Lantern series experienced a typical second issue drop-off, but still managed to come in fourth as fans once again demonstrated their pleasure at the return of Hal Jordan.
Aided by continuing strong performances from Superman/Batman and JLA and the continuing success of its major summer publishing initiative Countdown to Crisis, Villains United, OMAC Project and Rann Thanagar War, DC posted another strong showing with 5 out of the top 10 titles and 10 out of the top 25. Still it appears that the success of the House of M titles (including Spider-Man: House of M #1, which came in 10th) came at the expense of regular releases. Only 7 of the top 25 titles registered increases with 15 declining --still the boffo launch of the House of M and the continuing success of DC's event comics, drove sales of periodical comics up 13% for the month versus 2004.
The influence of summer movies on comic sales is hard to pin down (though it obviously counts for far less than the publishing events created within the industry itself) with DC's Batman title registering a modest gain (of 568) and Marvel's Ultimate Fantastic Four suffering minor attrition (of 1,178).
Grant Morrison and Frank Quitely's Vertigo title, WE 3 easily topped the June graphic novel list with sales of nearly 7,700 followed by the trade paperback edition of Neil Gaiman's Marvel 1602 and the top manga title, Tokyopop's Fruits Basket Vol. 10, which registered a nice gain in direct market sales from Vol. 9. Fruits Basket's success in the direct market not only indicates that female-oriented manga can do well in comic shops, it proves that Fruits Basket is the number one manga property in the U.S. right now (see 'New Fruits Basket Tops List').
Batman Begins and the Fantastic Four movie may have had more influence on trade paperback sales with the Ultimate Fantastic Four Vol. 3 at #4 on the graphic novel list followed by Batman War Games Act 2 at #5 and the Batman Begins Movie Adaptation at #13. The Essential Fantastic Four Vol. 4 came in at #9 with the Fantastic Four Movie Adaptation at #22.
The top 25 comic titles in June, along with our estimates of the number sold to North American comic shops by Diamond Comic Distributors are:
233,768 House of M #1
168,974 House of M #2
161,575 New Avengers #6
117,816 Green Lantern #2
114,099 Superman/Batman #20
95,375 JLA #115
94,387 Villains United #2
94,011 OMAC Project #3
91,221 Uncanny X-Men #461
85,126 Spider-Man: House of M #1
83,802 Rann Thanagar War #2
82,457 Uncanny X-Men #460
80,307 X-Men #171
79,961 Wolverine #29
79,420 Ultimate Spider-Man #78
78,889 X-Men #172
78,613 Ultimate X-Men #60
78,445 Day of Vengeance #3
74,117 Amazing Spider-Man #521
70,542 Teen Titans #25
70,300 Ultimate Fantastic Four #19
69,097 Ultimate Fantastic Four #20
68,687 Young Avengers #5
67,208 Batman #641
61,515 Superman #218
We are estimating actual sales by Diamond U.S. (primarily to North American comic stores), using Diamond's published sales indexes and publisher sales data to estimate a sales number for Batman (the anchor title Diamond uses in its calculations), and using that number and the indexes to estimate Diamond's sales on the remaining titles. We can check the accuracy of our numbers by comparing the Batman number that we calculate using multiple data points; our numbers for Batman are within 1/10 of 1% of each other, ensuring a high degree of accuracy.