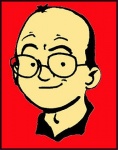 'I Think I Can Manage' is a weekly column by retailer Steven Bates, who manages Bookery Fantasy, a million dollar retail operation in Fairborn, Ohio. This week is Bates' final column, as he moves on to a new position with Diamond Comic Distributors.
So long, farewell, Alf's Weiner stain, good-bye.
After nearly a year of forcing my opinions and observations down your throats, I'm bidding adieu to 'I Think I Can Manage.' Well, to my regular column, at least. My editor, the versatile and talented Milton Griepp, has assured me that my comments are always welcome at ICv2. Maybe he's just being nice, like when you talk to a child about pudding before bed. 'If you're good ...' Or maybe he's desperate for content. Lord knows my column has been everything short of filler at times. Whatever Milton's rationale for (ever) allowing me to post anything on his site, I do appreciate the opportunity to have had a public forum with an audience comprised of such a talented and diverse cross-section of retailers, publishers, creators, and fans. The comics and games industries are filled with absolutely the best and brightest people; I've been honored that so many have been paying visits to my private little world for a peek inside, for a new perspective, a fresh idea, a little scolding now and then, or just a chuckle.
I'm giving up the column because I'm transitioning out of retailing. For the past 18 years, I've thought I could manage Bookery Fantasy (you'll have to ask the owner if I've been successful or not). Now, I'm stepping out of those shoes-very comfortable, well-worn tennies-into new footwear, the kind you wear in big glass office buildings with Dockers and Polo shirts. I'm staying in the industry I love-comic books-but moving into the Marketing Department as a Writer at Diamond Comics. As a result, I'm walking away from one 'dream job' at the Bookery for another. People ask me if I'm comfortable, going from being the 'Big Fish' in this pond to a 'little fish' in Diamond's much larger pond. I look at this way: fish only grow as big as their environment allows. And taking this position at Diamond fulfills a childhood fantasy of working in comics as a writer.
I'm going to miss Bookery Fantasy: the people, the place, the possibilities. After 18 years of nurturing the store, I feel as if I'm giving my daughter's hand away. But I trust that the new manager, Chuck (who has MORE than paid his dues as both Assistant and Games Manager) will take good care of her. And the man who 'gave birth' to the Bookery 21 years ago, owner Tim Cottrill, is well-suited to keep the store dynamic and competitive. It is my sincerest hope that the store will continue to thrive under their guidance; my secret fear is that, once I'm gone, things will improve so much they'll wonder why they kept me around as long as they did. These folks are my family, as dear to me as my own flesh and blood. My thanks to Tim, Chuck, the staff, and customers of the Bookery who have made the past 18 years seem more like 18 minutes. Take care of my 'baby'-I'll be watching you!
As for all of you out there in Internetland, I expect you to stay tuned to ICv2 for the latest news and updates on the movers and shakers of the entertainment and collectibles world. Milton has big plans for the space formerly occupied by I Think I Can Manage. If he brings aboard either of the writers I recommended, you can expect to see some columns very different in perspective and tone from mine. Which, I truly believe, is a good thing. Change is good. Especially in the ever-mutable worlds of comics, games, toys, electronic media, and cards.
Thanks for reading.
Thanks to Steve for his great contributions to ICv2, both as a columnist and in his Talk Back comments over the years.

Good luck at Diamond.

To our readers, watch this space for a new voice next week. -- ed.