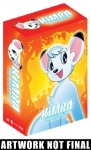 The Right Stuff International has announced that its release of Osamu Tezuka's Kimba: The White Lion (see 'The Right Stuf to Release 'Kimba'') will be a limited edition on 11 discs, as Kimba: The White Lion Remastered Limited Edition Ultra Collector's Box.
All original 52 episodes (in English) will be restored, along with the original Japanese Episode 1, an interview with Fred Ladd, deleted scenes, and other extras.
The package will also include a 'How Kimba Came to Be' booklet, by Fred Patten and Robin Leyden, and a fully telescopic artbox. Street date is November 29th; MSRP is $129.99.