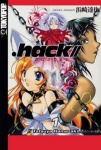 With all the attention that manga has received due to its dominance of graphic novel sales in bookstores, very little mention has been made of a couple of anime/manga-related novels, which have also done extremely well in bookstores. Retailers who have hesitated to order these volumes because they are not 'graphic novels' per se, might want to rethink their decisions based on the success of Dot Hack AI Buster novel from Tokyopop and the Vampire Hunter D novel from Dark Horse and Digital Manga.
Released in late July, the Dot Hack AI Buster novel spent its first three weeks of release in the Top Ten on the BookScan list of graphic novels sold in bookstores. In less than two months of release it has racked up numbers that would put it in the Top 50 manga titles in year-to-date sales in the bookstore market. Dot Hack is a true multi-media property and each of its various incarnations -- manga, video games, anime series, novels -- provides additional insights into and adventures in the virtual reality world at the multi-faceted property's core. AI Buster is not just a one-off either -- there is a sequel (AI Buster Vol. 2) and another novel (Dot Hack: Zero) available in Japan.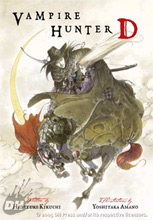 As successful as Tokyopop's AI Buster novel has been, Dark Horse and Digital Manga's Vampire Hunter D, which was released this past May, has done even better. It would rank in the Top Ten in year-to-date manga sales based on its performance in bookstores so far. First published in 1983, Hideyuki Kikuchi's Vampire Hunter D novel inspired the Vampire Hunter D anime OAV, which, in turn, spawned the popular Vampire Hunter D: Bloodlust anime feature. There are 13 volumes in this series of spectacularly spooky tales, which certainly should provide a substantial incentive for retailers to spend some time introducing these stylish horror novels, which are beautifully illustrated by Yoshitaka Amano, to their customers. Earlier this month Dark Horse (under its DH Press imprint) published the second book in the series, Vampire Hunter D Vol. 2: Raiser of Gales, and the third volume is slated for January 2006.
Viz is launching its fiction imprints in October, with Full Metal Alchemist: The Land of Sand and Socrates in Love (see 'Viz Launches New Fiction Imprints').