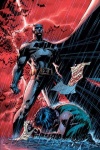 Frank Miller and Jim Lee's All Star Batman & Robin, The Boy Wonder #2 published by DC Comics was the best-selling periodical comic book in September. The Miller/Lee collaboration, which shipped with two covers, experienced a normal issue #1 to issue #2 drop of just over 30% from its record-setting debut in July (see 'Miller & Lee Break Records'), to around 178,000, but still came out far ahead of its closest challenger. DC took five of the top ten spots with Superman/Batman #22 in fifth, Supergirl #2 (shipping with two covers) in sixth JLA #119 in ninth and The Omac Project #6 at number 10.
For the second month in a row comics written by Marvel's Brian Michael Bendis, New Avengers #10, House of M #6, and New Avengers #11 took the second, third, and fourth spots on the chart. Ultimates 2 #8 grabbed the seventh spot and Marvel had the top new comic title in September with Ghost Rider #1, which secured the eighth position.
Overall only six of the top 25 titles managed to gain circulation with DC's JLA the only title to have posted gains for the past two months in a row. While Marvel and DC split the top ten titles, Marvel had 16 out of the top twenty-five.
DC dominated the graphic novel charts taking the first five spots and eight out of the top ten. DC's domination was even greater in dollar terms thanks to the strong performances from three high dollar hardcover editions, Identity Crisis, which topped the list, the World's Greatest Super Heroes, which came in third, and the Absolute Batman: Hush Oversized HC, which finished seventh.
Dark Horse had the three top manga releases in the direct market led by Samurai Executioner Vol. 5 in sixth place followed by Hellsing Vol. 7 in eleventh and Lady Snowblood Vol. 1 in sixteenth.
The top 25 comic titles in September with our estimates of the number sold to North American comic shops through Diamond Comic Distributors are:
178,592 All Star Batman & Robin, The Boy Wonder #2
143,014 New Avengers #10
138,131 House of M #6 (of 8)
131,361 New Avengers #11
103,245 Superman/Batman #22
101,681 Supergirl #2
95,980 Ultimates 2 #8
95,182 Ghost Rider #1 (of 6)
94,073 JLA #119
93,374 The OMAC Project #6 (of 6)
89,428 JLA #118
89,026 Wolverine #32
85,885 Uncanny X-Men #464
82,493 Villains United #5 (of 6)
80,718 Green Lantern Corps: Recharge #1 (of 6)
78,508 Wolverine #33
77,894 Sentry #1 (of 8)
76,555 X-Men #175
75,756 Ultimate Spider-Man #82
74,760 Ultimate X-Men #63
73,797 Ultimate Spider-Man #83
72,569 The Rann/Thanagar War #5 (of 6)
71,494 Ultimate Fantastic Four #23
71,197 Ultimate Iron Man #4 (of 5)
71,065 Amazing Spider-Man #524
We are estimating actual sales by Diamond U.S. (primarily to North American comic stores), using Diamond's published sales indexes and publisher sales data to estimate a sales number for Batman (the anchor title Diamond uses in its calculations), and using that number and the indexes to estimate Diamond's sales on the remaining titles. We can check the accuracy of our numbers by comparing the Batman number that we calculate using multiple data points; our numbers for Batman are within 1/10 of 1% of each other, ensuring a high degree of accuracy.