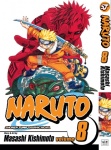 Viz Media, LLC. has chosen Mattel, Inc., the nation's largest toy company, as the master toy licensee for the wildly popular manga and anime property, Naruto. Created by manga-ka Masashi Kishimoto, Naruto has been a mainstay of the Shonen Jump lineup and the Naruto anime, produced by Studio Pierrot, is one of the most popular long-running series in Japan.
Earlier this fall the Naruto anime made its U.S. television debut on the Cartoon Network and had an immediate impact (see 'Naruto Scores Big in TV Premiere') on American audiences. The effect of the Cartoon Network broadcasts was immediately apparent on the sales of Naruto manga as all seven volumes published here in the States soared into the Top 20 of the BookScan list of graphic novels sold in bookstores (see 'So You Think the Cartoon Network Doesn't Matter') -- and perhaps most interestingly, the Naruto manga volumes have stayed red hot (see 'Full Metal Alchemist Tops BookScan').
In Japan Naruto's manga and anime successes have spawned a plethora of popular licensed products including toys, trading card games, and video games. Mattel's acquisition of Naruto and of another key Viz property with mass market potential, Zatch Bell (see 'Mattel Plans Full Zatch Bell Line'), could help the stricken toy giant, which is currently suffering from a major case of 'Barbie withdrawal' as the company's aging mainstay continues to wilt in the face of competition from the Bratz dolls. In recent years Mattel has done an excellent job in revitalizing the Batman toy line, and with Naruto and Zatch Bell the toymaking powerhouse has acquired two other properties that may help it keep its preeminent position among American toy companies.