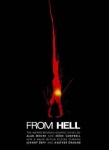 Media projects based on comic properties had a great week last week. Most important for pop culture retailers, From Hell won the weekend box office derby -- it's the #1 film in the country. Based on the graphic novel by Alan Moore and Eddie Campbell, directed by the Hughes brothers, and starring Johnny Depp and Heather Graham, the moody, atmospheric tale of Jack the Ripper has a close connection to the underlying property. The graphic novel is featured prominently in the film's credits, and has been mentioned in every review we've seen. Attendance has undoubtedly been helped by overwhelmingly positive reviews, including two thumbs up by Ebert and Roeper, and the star power (and sex appeal) of Depp and Graham. There's a great new movie cover for the book, and it's available now (see 'From Hell Bows').
The good news actually started last Wednesday, when the premiere of Smallville (the new costume-less Superboy drama) became the highest-rated new series ever on the WB.

It also won the time slot in teens, female teens, and viewers 12-34.

Whether Smallville will actually sell Superman product is questionable, but like Lois and Clark a few years ago, it reminds viewers that the property exists and can be cool.