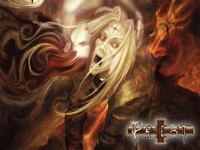 Variety is reporting that the long-in-the-works live action movie based on the Tokyopop manhwa Priest (see 'Priest Live Action Movie') is set to begin shooting this summer. It will be directed by Andrew Douglas, who directed Amityville Horror, probably a good choice for this supernatural material. Sam Raimi is one of the producers.
The priest in the story sold his soul to the devil for the power to come back from the devil and fight evil in the old West.
Tokyopop has published 14 of the 15 volumes of the Priest manhwa by Min-Woo Hyung.