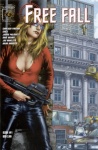 We had a chance to catch up with the folks from Narwain Publishing recently for a chat on their large-scale U.S. comic launch and future plans; we spoke to art director Dario Gulli, who is spearheading the creative end; marketing director Sabrina Bandiera; and well-known U.S. comic writer Brian Augustyn, who is serving as U.S. consultant for the company. Narwain launched in the U.S. in December, and has rapidly increased its output to six to seven comics a month in a variety of genres and art styles.
The company is backed by Italian printing company Paretto & Petrelli, a printer of medical, trade, art, and text books, which is producing the high-quality comics (most in color) on heavy, glossy stock. It has aggressive plans to release its books throughout Europe. Talent is being recruited from around the world, and already includes American, European, and Japanese creators.
Narwain's line started by concentrating on science fiction and horror, but has also published all ages and crime books, and is increasingly focused on horror and noir titles. Most of the books are company owned; the soon-to-be released Zombie-Sama (created by Billy Tucci) is an exception.
The titles are not linked in any way, but there are some inter-company cross-overs, including cross-overs between Jenna and Antarctic's Ninja High School and Arcana's 100 Girls.
Narwain's best-seller to date has been Free Fall, written by Gianluca Peredda with art by Jimmy Palmiotti and Eric J, colors by Dave Bryant, and covers by Jay Anacleto and Brian Haberlin. Narwain expects sales on Tucci's Zombie-Sama to surpass those on Free Fall when it's released.
Narwain's first books were produced for the American market, with German, Spanish, Czech, French, and Norwegian editions to follow. The books will be released in the traditional European album format in Italy. Some European editions will be licensed to other publishers, others published by Narwain itself.