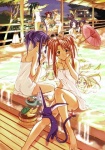 Love Hina is a mild erotic love comedy in much the same vein as the popular Tenchi Muyo! series. The protagonist Keitaro is a hapless young fellow who has failed his college entrance exams three times. He ends up as the superintendent of his Grandmother's inn, which has become a girl's dormitory populated by uniformly gorgeous girls. The popular Love Hina manga series created by Ken Akamatsu appears in Shukan Shonen magazine and has been collected in eleven volumes, which have sold over 6 million copies in Japan. In 2000, Love Hina was made into a popular anime series produced by Xebec for TV Tokyo. Now it's time for Love Hina to invade America. Over the next four months a number of Love Hina-related items will be released in the U.S. in what amounts to a well-timed marketing campaign. The first wave of Love Hina products includes a series of posters from 1000 Editions, followed by the manga series from Tokyopop, and DVDs from Bandai. Let's take a closer look at some of the products from this charming series that may eventually rival Tenchi Muyo! in popularity here in the States.
Posters
The first Love Hina poster from 1000 Editions will appear in the December Previews. The second will be solicited in January. These full color 24x36 images should retail for around $6, which makes them extremely affordable. The sexy images provide plenty of 'fan service' without lapsing over into bad taste, a delicate line that both the manga and anime series also manage to navigate adroitly. The focus of the posters is clearly on the delightful boarders who make the Hinata Inn/dorm such an interesting place.
Manga
Tokyopop will begin publishing the Love Hina manga series in January (see 'Tokyopop Gets Cowboy Bebop Manga'). The black-and-white comics will carry a cover price of $2.95 and will eventually be collected into trade paperback collections. Like so many classic anime series, Love Hina began as a popular manga, and no one is better at squeezing all the humor and charm out of Keitaro's situation than Ken Akamatsu, who created this romantic comedy of college-age yearnings and anxieties.
DVDs
Bandai Entertainment is set to release the first Love Hina DVD on February 19, 2002.

The DVD will contain the first four episodes of the 24-episode series.

It will be a bilingual disk with both an English dubbed track as well as the original Japanese soundtrack with English subtitles.

The episodes will be presented exactly as they were in Japan without cuts or changes for the American market (one of the benefits of the fact that Love Hina has not yet been broadcast in the U.S.).

Bandai is actually producing two different versions of the Love Hina disk.

The standard version will retail for $29.98, while a second version will cost $34.98.

There is no difference in the actual DVD itself, but the more expensive 'collector's edition' will include a special decorated 'flip-top' box that has room for the other five disks in the series.

Buyers who spring for the 'collector's edition' (and buy the next five DVD releases) will end up with their very own 'collector's set.'