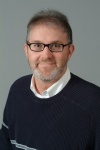 On Monday, Tokyopop announced a major new co-publishing and distribution alliance with HarperCollins (see 'Tokyopop Signs Alliance with HarperCollins'). We caught up with Tokyopop publisher Mike Kiley, in Italy for the Bologna Book Fair, as he was about to sit down to a plate of pasta, for a few questions on the deal.
Tell us a little bit about Meg Cabot.

What's the target demo of her work?
I think it is a little bit skewing to kids, but in general, she's in the mainstream of just very classic teen fiction, which tends to be about 12-17. She skews much more female than male (although I'm sure she has some guy readers as well). I think 12 to 17 is about the sweet spot in her books. Of course, as you know, that fits pretty well with the demographic of the classic manga stories.
Are you thinking about doing other Harper Collins authors -- are you thinking about adapting their work into Manga as well?
Absolutely, absolutely. That's what's incredible about it, it's a co-publishing deal. That's the nature of a co-publishing deal; it's not founded on one particular author. It's based on the concept of taking either well-known properties or well-known authors and extending their appeal and their reach into an incredibly exciting new media, mainly the manga graphic novel.
Just one thing to be clear about, Tokyopop is not about adaptation of existing content. When we develop properties, we bring an enormous amount of talent and innovation to the table. We'll be doing the same thing in the projects that we do with Harpers: we don't retell stories, we present new stories based on particular universes.
The same kind of thing we do with Blizzard with Warcraft, where we take a household name and develop an entirely new storyline that's spun off from the existing RPG material, is the approach that we'll be taking with Harpers. We're not going to take a book and make it into a manga. We'll be taking a concept or a set of characters or an alternate universe, and we're going to use the manga to create something entirely new.
We see that ultimately you're looking to take this up to 24 books a year. How many do you think you'll get out in 07?
It's hard to say, really. We'll be in the 5-10 area, something like that. The manga production process is pretty long. I wish it ran like Swiss trains, but in fact it doesn't -- the production process is long and involved, and subject to challenges and delays. I think maybe anywhere from a half a dozen to 10 coming out in 07 is good.
And are you going to do series, one-shots, or a combination?
We'll probably do a combination. We're more comfortable, because of the manga format, with series in general. We just think that that's the approach the format seems to want -- the idea of an ongoing story, developing manga-style is very natural to us. But I'm sure that there could be projects put into the co-pub deal that are one-offs. I think we're just kind going to have to wait and see how that evolves.
Now on to the distribution deal. Why do you feel that the arrangement with HarperCollins will be superior to what you're doing now?
First of all, it's really important to stress the fact that Perseus and CDS were and are just an incredible bunch of people. They've helped take Tokyopop to the next level. These guys are fabulous. I think the main difference in going forward is probably going to be simply in the fact that Harper is a larger and therefore more powerful force, both on the sales and on the logistics/system side.
It isn't even necessarily that these are areas that we didn't take a stab at ourselves or in concert with Perseus, it's just that Harpers brings an awful lot of weight and gravitas to the table when it comes to working the product lines and getting it into certain areas of the bookstores where there are a couple of new initiatives we have for 06.
I just think that overall it's going to be a really, really potent combination. The fact of the matter is, as I think Harper said today in various forums, they are very, very focused on manga. They've been looking for a way to get into manga for a long time. This is the opportunity that they've been searching for, and frankly, that's pretty exciting for us.
We looked at a lot of different distribution options, as you know, and some of those smaller companies have the advantage of being more responsive to you. The disadvantage with a larger company is that you could get lost in the shuffle, and you're not going to be of much interest to them. At the end of the day, because of Harper's interest in manga and because of their interest in doing this co-development with us, it became very clear to us that they're into what we do. They really believe in this stuff, and therefore we have every reason to believe that they're going to be very, very active participants, not only in the co-publishing part of the deal, but in general in terms of our accounts.
So I feel very comfortable that we're going to get the proper amounts of attention from a very, very large and powerful corporation.
Will your books carry any HarperCollins branding?
The books that fall under the co-publishing deal will be co-branded with HarperCollins and Tokyopop. None of the other books that we publish are going to be affected by either the co-pub deal or the new distribution agreement.
How did you pick the timing of mid-June as the start date?
It was the expiration date of the current distribution agreement.
Are you going to continue to have your own sales force to the book trade?
Yes we are. It will be a very similar arrangement. We're obviously in the process of figuring out the transition and the new team at Harper. We're having meetings with them constantly. I'm going to be spending a great deal of time in New York over the next few months. We will still maintain the combination of an in-house team and the sales and distribution partner's team.
Does HarperCollins have any titles in mass that you'll be able to follow in?
Yes, absolutely. It's one of the many areas that they have an incredible amount of strength and influence in. We're hoping that the time is right for manga to bust that channel a little bit more wide open than it's ever been before.
What titles do they have in mass market distribution?
They have an incredibly diverse trade publishing program that includes both mass market and trade paperback formats, specifically in children's literature. The authors that we've already talked about, someone like Meg Cabot, these are multi-million copy selling authors. There's a reason why Harper is the second largest book publishing company in the country -- they have a ton of stuff that sells hundreds of thousands and even millions in print.
So is Meg Cabot in Walmart?
Oh yeah, absolutely.
Will this have any impact on Diamond's distribution to comic stores?
No, absolutely not. We were incredibly bullish about our relationship with Diamond;. it's been a wonderful growth area for us, and I think frankly a lot of the original manga titles that we're beginning to put out their acceptance and success in the Diamond direct market will be a cornerstone of their being successful from an overall point of view. So we're incredibly bullish about Diamond and I think we're going to be doing some really innovative things with them in the coming year.