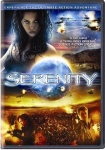 Universal Home Video has announced that Joss Whedon's Serenity will be the first Universal title to debut in the new HD DVD format. Serenity will hit retail on April 18th with as list price of $34.95. The regular edition of the Serenity DVD lists for $29.95, so the price differential is not as dramatic as some have feared. Warner Home Video is also releasing three titles in the HD DVD format on April 18th, Million Dollar Baby, The Phantom of the Opera, and The Last Samurai.
Although the new high definition DVD format does not appear to be as expensive as was once thought (players for the HD DVD format cost about $500), the fact that the industry was not able to decide on a single standard has created a VHS/Betamax conflict between two incompatible formats, Toshiba's HD DVD and Sony's Bluray. Right now the high definition DVD market is in total flux. Warners delayed the planned March release of its first three films; very few players have been sold; and the Bluray players are not available in the U.S. yet. Many industry experts are now thinking that high definition DVD will end up as strictly a videophile's format a la laserdisc.
Only a relatively small number of films are slated to be released in the high def format this year, with studios hoping that some film, perhaps a cult hit with a strongly motivated following like Serenity, will become The Matrix of the new high definition format.
If high definition DVDs do not become mainstream, mass-market items like regular DVDs, there will be room for specialty retailers (a la laserdisc); though retailers, like consumers, will have to be careful and pick the winning format. And unlike the situation during the heyday of the laserdisc, brick and mortar retailers will have to face Internet competition.