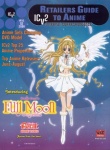 An ICv2 release. ICv2 has announced the release of the ICv2 Retailers Guide to Anime/Manga #14, which is being distributed to the trade by Diamond Comic Distributors, Alliance Game Distributors, Bookazine, GTS Distribution, AAA Anime, and TMZ Distribution. The Guide will also be distributed at Book Expo America and other shows.
In this issue, ICv2 takes a look at the continuing growth in the manga market in the first quarter of 2006 and offers its estimate of manga sales in the U.S. and Canada for 2005.
On the anime side, articles note the reduction in the number of releases and the shift towards lower-priced box set collections of anime TV series, which are gradually heading toward the format of conventional American TV series releases.
For a more detailed look at the extensive coverage of anime and manga in the new Retailers Guide along with listings for the Top Ten Anime and Manga properties (in the actual Guide ICv2 identifies the Top 25 Anime properties and the Top 50 Manga properties) see 'ICv2 Releases 2005 Manga Market Size Estimate.'
To get a copy of the ICv2 Retailers Guide to Anime/Manga:
For retailers, if your distributor is on the list above, just ask for your free copy of the Guide, or if not, e-mail Dennis Viau at our office at DViau@icv2.com to request a copy. For others, it's available for a small charge at the ICv2 Online Store (click here).