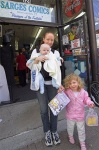 The owner and two employees of Sarge's Comics in New London, Connecticut share their report on Free Comic Book Day 2006:

Malinda Brown
What a FCBD! While some people think that customer participation was down this year, I think that we had about the same numbers as last year, only handled more efficiently. The table layout was much improved, giving both our talent and our customers more space in which to move.
The weather was beautiful for most of the day, which I think brought in people who were just out enjoying the day. The mild shower in the middle of the day was mercifully short, and gave the members of the 501st Garrison a chance to come inside and rest a bit.

As we have for the last few FCBDs, we had the lovely people of the 501st Connecticut Garrison both outside and inside, posing for pictures and having an all around good time.

We added a few new names to our roster of artists and writers this year.

The books this year were wonderful. The pairing of Star Wars and Conan was a bit odd... I realize both are put out by Dark Horse, but perhaps a better pairing could have been found? I noticed that some of the indy books were actually marked 'mature audience,' and that actually made me emit a squee of joy. A small squee, but a squee none-the-less.

Between our barking volunteers (droogies, as they are lovingly known), and the odd spectacle that is two Tuskan Raiders, a handful of Stormtroopers, two Sith lords, a Slave Leah princess, Arwen from Lord of the Rings, and the protagonist V from the hit comic/movie V for Vendetta hanging about outside for pictures and general tomfoolery, we had a lot of passers-by that came in to see what all the hubbub was about.


Milt Angelopolous

FCBD was a lot of fun. I think this year went more smoothly than I've seen it before. I think the patrons and the talents were all satisfied with how things went. The 501st was a big highlight of the day. It felt like less people than last year but this year had more customers and fans, while last year seemed like more passers-by. It being in May, rather than June/July helps us avoid a lot of summer traffic trouble with so many other events downtown to participate in. Early May has its own niche that was perfect for FCBD.

I had a blast! I feel very lucky to able to work in such a fun place on such a fun day.

It was long, but satisfying.

Good day, good company, good times and low prices.

Who could ask for more?

Robert Miller
We opened an hour earlier than usual and customers were waiting to come in! They came from over 100 miles away!


Our artist/writers and other guests did their best to stay throughout the day. Some came as others went, and it made for a nice time as some customers could not make it earlier.

Popcorn was donated by the local Regal movie theater with which we had worked out a cross promotion. They gave out many hundreds of comics to their patrons for two weeks prior to our event. Each FCBD bag contained an adventure/superhero comic, an event flyer and an all ages humor comic. For the last batch to the theater, I added manga samples which went over well.

We also had much Cosplay from the anime crowd! InuYasha, Vash, Children from Final Fantasy Seven: Advent Children came for the fun, and more.


Let us not forget our friend in furry-land as well. Lots of costumed characters made for a great fun day.

We applied special discounted sales to various departments throughout the store. We looked on it as a reward to out loyal customer base and an affordable introduction to those who may wish to dabble in our hobbies.


The largest hits were the 60 or so boxes of 10 cent comics.

Graphic novels made up the largest percent of the days total with games coming in second. The games included CCG, RPG, and miniatures.


This is our one large advertising expenditure each year other than The Yellow Pages. We do radio spots which seem to catch a crowd which are not our regulars. This is a good thing. Perhaps it would work without an event, though I'm thinking more of trying cable TV ads in the future.


We ordered enough extra comics to have some all year. These are used for donations, and general gifts to newcomers to our store.


We gave many of the Star Wars comics to the 501st Conn squad for them to give out at other events. Each comic bears our sticker with the address, phone number, email address, and a nice Star Wars picture of the 501st folks.

I can say sales were up 10 percent from last year, although the crowd seemed thinner. That may have been more of a perception as we were not hemmed in by bad weather like last year. Then, the fates gave us endless wind and a fair amount of rain, so we crowded inside the store.


This year we spread wide and went onto the sidewalk once more. Hence the store had a great flow though for the people who came. And they came!

We also raffled off a Star Wars light saber and a lucky young woman from the Groton Sub Base won it:


The list of guests included:
The Stormtroopers of the 501st -- The ConnSquad Garrison graced us with their presence and amazing costumes

Steve Ahlquist & Chris Reilly -- co-creators of Strange Eggs and four time Harvey Award nominee for the comic Puphedz

Chris is writer and creator of Punch and Judy, and Steve is writer and creator of The Oz Squad

Andrew LoVuolo -- creator of The Rift and co-writer of Marshal.

Professor William H. Foster III - Author of The Changing Image of African Americans in Comics

Keith Champagne -- currently inking Firestorm and Batman, with more coming later this year.

Former Writer for JSA, and creator of Armour X from Image

Keith Murphy -- Our favorite member of the Comic Artist Guild

Randall Ensley -- Sci-fi artist extraordinaire nominated for the 2002 Chesley Award for Best Interior Illustration

Ben Morse -- Wizard Magazine writer

Dave Quintana -- Artist/Writer previously with Image Comics

Shawnti Therrien -- Artist of the web comic Am I Immortal

Ox Baker -- Old school professional wrestler.

Even if you aren't a wrestling fan, you may remember this bad boy from the film Escape from New York.
We hope folks will be talking about this FCBD for some time to come! Thirty-one pizzas, an endless drink supply (from our two soda machines) for our guests and staff, sales, and a general fun atmosphere all came together to make it a memorable time for all.
Some people are already emailing our livejournal about costumes for next year's event!
Thanks again to Joe Field for well, fielding this idea. It is a winner!
Retailers -- If you'd like to share your Free Comic Book Day story with ICv2's readers, please e-mail us at Comments@icv2.com with your story and images.