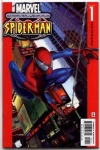 In response to ICv2's question about Marvel's Walmart program at the Marvel press conference today, Marvel President Bill Jemas revealed that at least six million Ultimate Spider-Man #1's are already in print. Jemas called the Ultimate line Marvel's '...flagship for a new young readers' initiative,' and pointed out that in addition to selling the books at Wal-Mart, Marvel was also printing them as premiums, which are given away with purchases at K-B toys and Payless Shoe Stores. Jemas noted that by the time the program is done Marvel may well end up printing some 12-15 million copies of Ultimate Spider-Man #1. 'We're halfway there already,' said Jemas.
Jemas made clear that no distribution channel will get all of Marvel's products. 'As it relates to what bookstores get and what comic shops get, we've been absolutely myopic as it relates to getting the first, best, hottest product on a direct market exclusive only,' he said. 'So, just like Walmart and the mass market distributors didn't get Origin or the mainline Ultimate books, the direct market may have certain titles that are not going to be available there. That's just part of the compromises of running a business that hits multiple classes of trade.'
Although the Ultimate #1s that appeared at Walmart had identical page counts to the direct market editions, subsequent Walmart books will contain two issues worth of comic material and will maintain the 48-page size making them easily distinguishable from direct market versions.
One part of ICv2's question that was not answered was why Marvel did not let its pop culture store customers know about the reprints for other channels; there was no explanation for Marvel's 'Just Sell, Don't Tell' strategy.
ICv2 broke the story of Marvel's Walmart program last week (see 'Marvel Reprints Ultimate #1s for Walmart'), and we've received a ton of response on both sides of Marvel's handling of this program. For the most recent comments and links to earlier comment articles, see 'Comic Retailers React to Marvel's Walmart Program -- Part 3.'