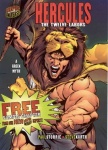 At the American Library Association's Annual Conference in New Orleans, Graphic Universe, an imprint of the Lerner Publishing Group, showed off a line of graphic novels based on myths and legends from a variety of cultures and targeted at young readers from 9-12. The first series of five professionally-produced 48-page full color volumes includes Isis & Osiris, Thor & Loki, The Trojan Horse, King Arthur, and The 12 Labors of Hercules.
The Hercules volume, the only one we've seen any pages from, is the work of a solid comic creative team--writer Paul D. Storrie (DC, Marvel, Moonstone), artist Steve Kurth (G.I. Joe, Micronauts, Dragonlance), inker Barbara Shultz (DC, Dark Horse, Image), colorist Brian Miller (Marvel, DC) and letterer Bill Hauser (a Kubert School graduate).
Creative teams on the other volumes are as follow:
King Arthur: Excalibur Unsheathed: An English Legend by Jeff Limke, Thomas Yeates (Illustrator)

Thor And Loki: In the Land of Giants : a Norse Myth by Jeff Limke, Ron Randall (Illustrator)

Isis & Osiris: To the Ends of the Earth by Jeff Limke, David Witt (Illustrator)

The Trojan Horse: The Fall of Troy: A Greek Legend by Ron Fontes, Justine Fontes, Gordon Purcell (Illustrator)
These volumes should help kids familiarize themselves with classic myths and legends and they include maps, glossaries, source notes and a further reading list. Graphic Universe is clearly targeting the library and scholastic markets with this series of graphic novels, and the dynamic art, comic format and great mythological storylines should make them attractive to reluctant readers -- and since every comic book fan needs a good grounding in mythology, these volumes could help create the next generation of comic book readers.
Hercules: The Twelve Labors, the first book is the series, debuts in a hardcover 'library' edition in September ($26.60), it will be available in an affordable trade paperback format in the spring of 2007.