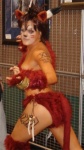 The 2006 Anime Expo, held at the Anaheim Convention Center in Anaheim, California, from July 1-4, was a huge success, breaking last year's record-setting attendance figure after only two of the four days of the event.

The 2005 total was 33,000, up from 25,000 in 2004 and 17,000 in 2003 (see 'Anime Expo Expects 40,000-47,000').

After two days, through Sunday, July 2, the attendance total this year was a very impressive 34,000, leaving the pre-show estimate of 40-47,000 within reach.

Kudos to those in charge for streamlining and improving registration to get the fans in sooner, with less congestion and hassles.

This year, Anime Expo expanded its exhibit area from its traditional one hall to two to allow for bigger walkways and more booths. That was a big upside, as traffic flowed much more easily. The downside was greater distances to walk, unfortunately on uncarpeted concrete floors.

As usual, the booths of the major anime and manga companies, such as Bandai, Viz, ADVision, FUNimation, TokyoPop and Geneon were often extremely crowded with fans in line for special events, autographs or freebies. Geneon had a live Japanese band playing in its booth on Saturday morning, which attracted additional attention.

Vendors had positive feelings about the turnout and booth sales compared to the cost of doing business at the show.

Without a doubt, the organizers can be very pleased with the record-setting vendor/manufacturer/publisher turnout, as well as the record setting-fan attendance, certainly in part due to the strong lineup of stars from the anime and manga field appearing at the show.