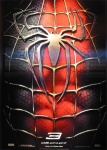 Spider-Man 3 will be simultaneously released at theaters throughout the world and at 100 IMAX theaters in North America on May 4th, 2007. Spider-Man 2 also received an IMAX release but back in 2004 there were only 63 IMAX screens available. Sony has not announced whether the Spider-Man 3 IMAX showings would feature any 3-D footage.
Meanwhile Superman Returns, which does contain 24 minutes of 3-D footage in its IMAX version and is considered something of an underachiever in spite of earning nearly $300 million in domestic box office receipts, is performing like a true champion on the IMAX circuit where it has earned $20.7 million making it the fastest grossing digitally-re-mastered IMAX release in the company's history with an impressive per screen average of $201,000. Once a novelty, IMAX releases of major films now represent an important revenue stream, and for films such as Superman Returns, an important way to give the movie extra 'legs' as fans continue to line up for a truly impressive presentation of big budget blockbusters that have already been banished from many smaller screens in the multiplex.
Next May figures to be one of the biggest and most competitive months in Hollywood history with Spider-Man 3 opening during the first weekend followed by the third Pirates of the Caribbean film and Shrek 3 in a unique triple play featuring sequels to three of the most popular franchises in the annals of Tinseltown.