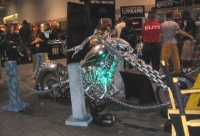 Marvel's publishing division was the brightest star in its recently released second quarter report, as the company exceeded earnings estimates on lower sales and profits. Sales declined 4% vs. Q2 last year, and profits were down 37% to $16.3 million for the period. But earnings per share magically declined only 21%, as Marvel voraciously bought back around $163 million worth of its own stock in Q2 (far more than covering the $60 million worth that Avi Arad sold on his way out, see 'Arad Cashes in Marvel Chips').
Publishing segment sales were up 21%, due to increased book format sales to both direct market comic retailers and better than expected sales of Civil War and its related titles. Publishing growth is expected to decline in the second half; Marvel management does not believe it can count on continued Civil War sales at the same level (calling the Q2 sales bump from the project a 'blip').
Marvel said that its new distribution channels, including bookstores and newsstands, were important sources of growth, although the test in Walgreens, discussed in the conference call, was unsuccessful due to a bad demographic fit between Walgreens customers and Marvel's audience. Sales in 7-11 are 'ok.'
But over-all, publishing was the bright spot in the quarter. Vice Chairman Peter Cuneo sang their praises in the conference call. 'The publishing group is doing a tremendous job, there's no question,' he said.
Licensing sales were down 23%.
Toys were up 9%, but that reflects the difference between royalties and selling the products itself, which probably means that retail sales of Marvel toys are down. This appears to be due to multiple effects of the transition Marvel is making from licensing its toys to Toy Biz Worldwide last year to making its own toys this year to licensing to Hasbro next year.
One effect has been on product flow; as Marvel moves its dies to new factories and begins production, there has been some disruption in supplies. The other impact is on sales. Cuneo, calling it a 'difficult transition' in the conference call, said that asking retailers to go from Toy Biz to Marvel to Hasbro was turning out to be tougher than they thought it would be, and that 'Retailers are being conservative in their purchases.'
Marvel is looking forward to a strong 2007, with three movies due for release. Ghost Rider, which has been in post-production for what seems like an eternity, will be released February 16th, Spider-Man 3 on May 4th, and Fantastic Four 2 on June 15th.