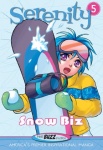 A Paid Advertisement. Barbour Publishing was first to bring inspirational manga to the masses -- and now tween and teen girls have another great read in Serenity!
Teens worldwide love 'manga' -- now you can give them this popular style with great Christian content! Meet Serenity, a lonely teen from a broken family who just wants to be accepted -- but who tends to lash out at others with anger and obnoxious sarcasm. At her new school, the Christian prayer group takes Serenity on as a 'project,' showing her friendship and love...but will even that be enough to crack her shell? Sharply illustrated in full color, the Serenity series features realistic storylines and dialogue, and shares a solid biblical message with tween and teen girls.
Serenity #5: Snow Biz -- Available Now!
The popular Serenity series continues with Volume 5: Snow Biz. Serenity sees a Prayer Club ski trip as another opportunity to drive a wedge between Derek and Kimberly. But while hot-dogging on the slopes, Serenity takes a major tumble, breaking her leg and seriously bruising her ego. Who's going to care for her wounds-both physical and spiritual? Written especially for tween and teen girls, Serenity shows how God's love can change hearts and make the world a better place. This appealing 'manga' graphic novel is printed in full color on high quality paper.
ISBN: 1593108745
5-1/2' x 8' / 96 pages / full color / paperback / $7.97
What others are saying about Serenity -- America's Premier Inspirational Manga:
'. . . a clean inspiring Christian comic done in a hip, contemporary way. I think you've really got a winner.'
--Stan Lee
co-creator of Spider-Man, X-Men, The Hulk
'I have a little tear in my eye! Serenity is wonderful! I think this will be a big hit. The art direction is excellent in its straightforward, clean design - very easy on and appealing to the eye. I will recommend it over and over. It's terrific! What a breath of fresh air from the usual porn that passes as entertainment for kids.'
--Allison Barrows
writer and artist, Preteena Comic Strip
Also Available:

Serenity #1: Bad Girl in Town
ISBN: 1593109415
5-1/2' x 8' / 96 pages / full color / paperback / $7.97
{IMAGE_3}
Serenity #2: Stepping Out
ISBN: 1593109423
5-1/2' x 8' / 96 pages / full color / paperback / $7.97
{IMAGE_4}
Serenity #3: Basket Case
ISBN: 1593108729
5-1/2' x 8' / 96 pages / full color / paperback / $7.97
{IMAGE_5}
Serenity #4: Rave and Rant
ISBN: 1593108737
5-1/2' x 8' / 96 pages / full color / paperback / $7.97


Coming Soon:
Serenity #6: You Shall Love
ISBN: 1593108753
5-1/2' x 8' / 96 pages / full color / paperback / $7.97
For more information, please visit:
For information on ordering, please visit:
http://www.barbourbooks.com/book/detail/1593109415/