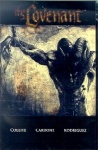 In an interview with Sci Fi Wire Renny Harlin (The Long Kiss Goodbye), director of The Covenant (based on the graphic novel from Top Cow), talked about the film. He said that it is 'dark, and violent, and it has lots of action. It's meant to be very scary, but there's no blood, and it's not about stabbing people and splattering their brains on the wall.'
Conventional wisdom in contemporary Hollywood insists that all 'horror' projects have an 'R' rating, but if The Covenant is scary enough, its lack of gore shouldn't matter -- and the 'PG-13' rating should give it easier access to the teen audience, a good portion of which often has to wait until 'R' rated horror features appear on DVD.
Written by TV scribe Aron Coleite (Crossing Jordan) and illustrated by Tone Rodriguez, The Covenant graphic novel (MSRP $9.99) came out last September from Top Cow. The Covenant, which is a dark fantasy saga involving five teenage warlocks whose bonds of friendship are sorely tested as they are about to come into full possession of their powers as they turn 18, is just the sort of film project that could become a 'sleeper' hit in the theaters this fall when it debuts on September 8th, or, if it fails to get wide theatrical distribution (like A Scanner Darkly), it might find its audience on DVD. Either way it's a project that retailers may well want to watch closely.