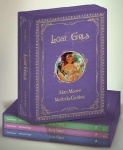 Lost Girls, the $75 erotic graphic novel set by Alan Moore and Melinda Gebbie, sold out its first print run of 10,000 copies at the distributor level last Wednesday, the day it was released. Publisher Top Shelf Productions has planned two reprints to cover additional demand.
Roughly equal quantities of the first run were shipped to the direct market and the book trade, according to Top Shelf CEO Chris Staros. All initial orders for the direct market were honored. The book trade, including major chain accounts, was allocated.
The second printing of 10,000 copies will be available in October and will need to be allocated to cover the current 15,000 backorders, which skew toward the book trade.
A third printing of 20,000 is set for mid-December delivery.