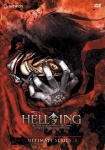 On December 5th Geneon will release Hellsing Ultimate Vol.1, the first in a series of OVAs (original video animation) based on Kouta Hirano's popular Hellsing manga, which features the charismatic vampire-hunting vampire Alucard ('Dracula' spelled backwards). Gonzo produced a 13-episode Hellsing TV anime series in 2001 (which Geneon also released in the U.S starting in 2002), but the plot of the TV anime differed in some important regards from Hirano's manga. The new OVA, produced by Satelight, hews very closely to the plot of the first volume of the manga series, and has been eagerly awaited by U.S. anime fans.
The 50-minute Hellsing Ultimate Vol. 1 will retail for $24.98, with a limited edition version available for $44.98. Geneon has brought back the English dub cast of the Gonzo series to voice the new Hellsing Ultimate OVA. A second volume in the OVA series was released in Japan in August and should be available in the U.S. in the spring of 2007.
Geneon has not announced any TV showings of the new Hellsing Ultimate OVAs. Starz/Encore Action Channel did show the 13-episode Gonzo Hellsing series in late 2003.
The Hellsing manga (published by Dark Horse in the U.S.) and the original Hellsing anime were both very popular here in the States -- in fact the seven volumes of Hellsing manga remain among the steadiest backlist sellers of all manga titles. The release of the Hellsing OVA in December should stimulate additional sales of the manga, especially the first volume, and retailers should expect a renewed interest in this property that should continue through the release of subsequent volumes of the Hellsing Ultimate series. An eighth volume of Hirano's on-going Hellsing manga is already out in Japan and a spokesman for Dark Horse told ICv2 that the Dark Horse is currently working on the translation and plans on publishing the eighth volume of the manga in the spring of 2007.