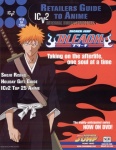 An ICv2 Release. ICv2 has announced the release of the ICv2 Retailers Guide to Anime/Manga #16, which is being released to the trade by Alliance Game Distributors, Diamond Comic Distributors, GTS Distribution, Lion Rampant, and others.
This issue includes an article (based on extensive interviews with representatives from all segments of the industry) in which ICv2 names the Top Ten Most Powerful People in the American manga publishing, as well as a 'Holiday Gift Guide' featuring anime, manga, art books, and anime/manga-related merchandise that is ideal for holiday gift giving.
Also in this issue ICv2 picks the new manga releases it deems most likely to succeed as well as, for the first time, the new anime properties with what ICv2 considers the best sales prospects.
Of course, all the regular features are back--the authoritative Top 50 Manga Properties and the Top 25 Anime Properties, Anime on American TV, a key survey of an all-important sales driver, plus market overviews for both anime and manga.
For more info on the contents of the ICv2 Retailers Guide to Anime/Manga #16, see 'ICv2's Top Ten Most Powerful.'
To get a copy of the ICv2 Retailers Guide to Anime/Manga #16:
For retailers, if your distributor is on the list above, just ask for your free copy of the Guide; or if not, e-mail Dennis Viau at our office at dviau@icv2.com to request a copy. For others, it's available for a small charge at the ICv2 Online Store (click here).