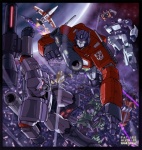 Don't look now but it appears that there is an 80s revival going on in the world of comic books. Image Comics, which just scored a major success with its revival of the G.I. Joe comic (from Devil's Due) is also planning to publish a Micronauts book (see 'Devil's Due Gets the Rights to Micronauts') -- and if the film based on Marvel's Cloak & Dagger comic ever makes it to the big screen, it will be time to resell those Fix albums you've been saving. Now comes word that Dreamwave, which just recently parted company with Image (see 'Dreamwave Ankles Image'), has reached an agreement with Hasbro to produce a wide range of Transformers-related products including comics, posters, calendars, lithographs, and scrolls. The first Transformers comic, which will be based on the original characters, will be available at retail beginning in April, 2002.
Founded by artist Pat Lee and based in Toronto, Dreamwave Productions has demonstrated a great affinity for anime/manga style graphics, which makes them a perfect choice to bring the Transformers back to comics. Although the Fox Network's decision to drop its daily cartoon block, which included the Transformers (see 'Fox Axes Daily Toons'), will reduce the property's visibility on television (the series will apparently remain in Saturday morning lineup), retailers will have a number of Transformers-related items including a first season DVD collection (see 'Transformers Season One Set Out in January') as well as reprints of the old Marvel comic collections (see 'Titan Takes Transformers Trades'), all of which should be available before the Dreamwave Transformers debut in April, 2002.
Reading the press release and looking at the Dreamwave Productions bulletin board it is clear that this project will be a labor of love.

Pat Lee himself will draw the first six-issue Transformers comic series, which will feature Optimus Prime and all his colleagues doing their best to stop the evil machinations of Megatron.

Just slip a Cyndi Lauper tape into the 8-track and enjoy!