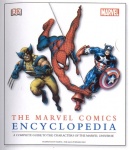 For the first time in recent memory both DC and Marvel had books in the top ten on the BookScan list of best-selling graphic novels in bookstores, though the 'Marvel' title was actuallyThe Marvel Encyclopedia from DK Publishing , which moved up to number five on the list for the week ending October 22nd.
Geoff John's Infinite Crisis from DC Comics dropped from #5 on the previous week's list to #9.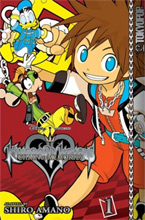 The first volume in Tokyopop's new Kingdom Hearts manga series was a solid #1 followed by Naruto Vol. 11 and Hana Kimi Vol. 14 from Viz Media. Tokyopop had a strong week with Yun Kouga's shonen ai saga Loveless Vol. 3 in the fourth spot and the OEL series Dramacon Vol. 2 by Svetlana Chmakova at number eight in addition to Kingdom Hearts in the top spot.
Viz Media had three other titles in the top ten including Bleach Vol. 15 at #6, Naruto Vol. 1 at #7 and Naruto Vol. 2 at #10 (all eleven volumes of Naruto were in the top 25).
Non-manga titles fared better than normal accounting for ten out of the top 50, including Scott McCloud's Making Comics, which remained in the top 50 for the third straight week, Marisa Marchetto Acocella's Cancer Vixen, the Harvey Pekar edited Best American Comics 2006, Frank Miller's movie-fueled 300 from Dark Horse, Alex Ross' Justice Vol. 1 from DC Comics, Alan Moore and Dave Lloyd's V for Vendetta, a new Fox Trot collection from Bill Amend and an anthology of cartoons rejected by the New Yorker magazine.
Among other manga releases of note Viz Media's Bleach Vol. 1 grabbed the 13th spot while One Piece Vol. 12 came in at number 17. Tokyopop's .hack//Another Birth novel was twenty-first, while Dark Horse's Vampire Hunter D Vol. 5 novel ended up at #29. Broccoli's Disgaea manga series made its first appearance in the top fifty at #40.