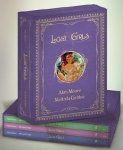 Top Shelf's Lost Girls, the three-volume erotic graphic novel by Alan Moore and Melinda Gebbie, has been approved for entry into Canada by the Canada Border Services Agency. A letter from Shawn Ewart, Senior Program Advisor of the Prohibited Importations Unit of the Agency, to Top Shelf attorney Darrel Pearson explained the findings in two key areas, depictions of incest and bestiality, and of sex involving persons under 18.
With regard to the depictions of incest and bestiality, Ewart said, '...these depictions are integral to the development of an intricate, imaginative and artfully rendered storyline....[T]he portrayal of sex is necessary to a wider artistic and literary purpose.'
Similarly, with regard to depictions of sex involving persons under 18, Ewart said, '...these representations serve a legitimate purpose related to art and to the very detailed story about the sexual awakening and development of the three main female characters. Furthermore, it is my opinion that this item does not pose an undue risk of harm to persons under the age of 18 years.'
Despite the inability to sell copies in Canada (or the UK, see 'Top Shelf Settles Pan Copyright Issue'), the first printing of 10,000 copies sold out immediately on release (see ''Lost Girls' Sold Out'). A second printing of 10,000 copies, which was released in October, also sold out immediately.
Around 17,000 of the third printing of 20,000 copies, which is due to arrive in mid-December, were already backordered prior to the opening of the Canadian market. Top Shelf now expects that demand will exceed supply by the time the third printing ships to retailers.
Top Shelf's Chris Staros told ICv2 that a fourth printing would be done, but that he will wait until Canadian orders come in to decide on a quantity.