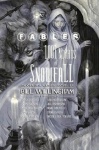 The chunky dollars from a number of top-selling hardcovers helped drive graphic novel sales up 38% vs. the previous year in October.

Comics were up 5%; the over-all comics and graphic novel category was up 11% year over year in October.

That growth rate represents a slight decline from the 16% Q3 growth rate; the comic format grew faster in Q3.
Five of the top ten graphic novel titles in October were hardcovers at $19.99 or higher. Of those, the biggest dollar book was Absolute Sandman at $99.00 retail, with Fables 1001 Nights of Snowfall and Infinite Crisis #2 and #3 in dollars, respectively. Marvel Zombies was back in print and back in the top ten. Brian K. Vaughn's Pride of Baghdad was still at #19, after hitting the list at #1 in September.
We are estimating actual sales by Diamond U.S. (primarily to North American comic stores), using Diamond's published sales indexes and publisher sales data to estimate a sales number for Batman (the anchor title Diamond uses in its calculations), and using that number and the indexes to estimate Diamond's sales on the remaining titles. We can check the accuracy of our numbers by comparing the Batman number that we calculate using multiple data points; our numbers for Batman are within 1/10 of 1% of each other, ensuring a high degree of accuracy.