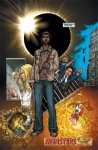 According to Variety, NBC's superhero-themed Heroes is the top rookie television series of the fall season. The final episode of the fall season, which aired Monday night, was the top-rated show of the night with a rating of 6.5 (a 15 share in the 18-49 demographic). The total audience for this week's episode of Heroes was estimated at 15 million.
Although Heroes' ratings have been strong all along, having been burned by the strong initial performance of the Blade live action TV series (see 'Blade Bites Off Big Share') only to see the series nosedive into a quick cancellation, ICv2 has been cautious about making too much of the initial ratings of any comic-based live action series, but the audience for Heroes has continued to grow and there is now no denying the that this rookie series is a definite hit.
Top flight comic book scribe Jeph Loeb (Batman Hush, Superman/Batman) is the executive producer of Heroes and each episode is accompanied by online graphic novel content (5-6 pages per episode) written by the show's writers and packaged by Aspen Comics. It is generally thought that at the end of the first season the online Heroes comics, which at that time should include well over a hundred pages of full color comic book material, will be collected in a print volume. Given the series audience of 15 million viewers, the potential of a print version of the Heroes online comics which provide additional details and backstories for the broadcast material, is huge.
Although Aspen Comics does package the Heroes online comics (Michael Turner and Koi Turnbull provided the art for the first installment), NBC has the copyright on the material and undoubtedly has plenty of publishing suitors willing to pay plenty for the opportunity to publish the collected Heroes graphic novels.