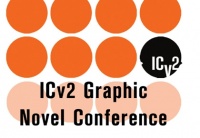 An ICv2 Release. Six prominent panelists have been added to finalize the roster for the second annual ICv2 Graphic Novel Conference at New York Comic Con in February. The new additions include bestselling graphic novelist Larry Gonick; Kurt Hassler, who recently left his position as graphic novel buyer for Borders Group (where he was ICv2's '#1 Most Powerful Person in Manga' last year) to take a new role as co-publisher of Yen Press; Glenn Kardy, CEO of Japanime, publisher of Kanji de Manga, among many others; Dallas Middaugh, associate publisher of Del Rey Manga; Ted Rall, Pulitzer Prize-nominated cartoonist, and graphic novelist; and Tomoko Suga, Senior Manager, Foreign Rights Department of Kodansha.
ICv2 President Milton Griepp expressed his appreciation for the final roster of panelists. 'These additions bring a lot of expertise and experience to our panels,' he said. 'We're expecting a great discussion of this exploding category.'
'The ICv2 Graphic Novel Conference: The New Trends Shaping Pop Culture' will be held on Thursday afternoon, February 22, 2006 at the Javits Center in New York City. The panels will take place between 1 p.m. and 5 p.m., with a cocktail reception sponsored by Transcontinental Printing to follow. In addition to Transcontinental, two other sponsors are supporting this important event for the future of graphic novels: VIZ Media, LLC; and Publishers Weekly.
Tickets for the ICv2 Graphic Novel Conference are now on sale on the New York Comic Con Website. Click here for more information
For more information on the ICv2 Graphic Novel Conference, go to:
http://www.ICv2.com/articles/news/9637.html
For a full list and more information on the panelists at the ICv2 Graphic Novel Conference, go to:
http://www.ICv2.com/articles/news/9638.html
ICv2 is the undisputed expert in the graphic novel field and covers pop culture in the anime, comics, games, toys, and movie and TV merchandise categories daily on its Website, ICv2.com, and in its magazine, the ICv2 Guide. ICv2 also provides consulting services to companies involved in the business of pop culture.
New York Comic Con is managed by Reed Exhibitions (RX), the world's largest organizer of business-to-business events, a division of Reed Elsevier plc. BEA is one of many Reed Elsevier properties within the Reed Global Book Publishing Network, whose trade events include the Asia International Book Fair, London International Book Fair, Salon du Livre: Paris Book Fair, Tokyo International Book Fair and BookExpo Canada. New York Comic Con is not affiliated with any other comic convention event, including any other event having Comic Con in its name.
ICv2 Graphic Novel Conference Contact:
Milton Griepp
608-284-9400
Mgriepp@ICv2.com
New York Comic Con Press Contact:
Roger Bilheimer
203-966-0792
bilheim@aol.com