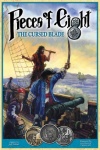 The Academy of Adventure Gaming Arts and Design has announced the winners of this year's Origins Vanguard Awards for innovative and unique gaming products: Atlas Games' Pieces of Eight and Matrix Games' Harpoon 3-Advance Naval Warfare. The Vanguard Awards represent the 'cutting edge' of new design in the gaming industry and both games will be demoed at Origins, which will be held from July 4-7 this year at the Greater Columbus Convention Center in Columbus, OH. While the Academy singles out new games for the Vanguard awards, it is the attendees at Origins who vote on the bulk of the Origins Awards (see 'Origins Finalists Announced'), which are announced at the Origins Award Ceremony at 8 pm July 7th.
Atlas Games' Pieces of Eight, which was designed by Jeff Tidball and came out last fall, uses 'pirate coin' tokens in an innovative and fast-moving game-play system that keeps the time limit on individual games to 10 to 30 minutes.
The Harpoon 3-Advance Naval Warfare, which was designed by Advanced Gaming Systems, is geared toward advanced players of military strategy games and allows them to engage in complex battles with large fleets.