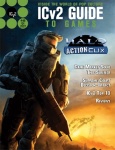 The quarterly ICv2 market report on game sales in the ICv2 Guide to Games #46 reported gains in all games segments over-all, but particularly strong sales at mass, with sales of the Pokemon TCG, in particular, described as 'on fire.' Retailers reported mixed results with some finding sales up and others describing a flat or sluggish sales trend.
ICv2 interviewed several industry leaders for their opinions on the Leegins vs. PSKS Supreme Court decision and game publishers' policies and practices concerning online discounters. Interviewees (full interviews published on ICv2.com) include Joe Hauck of WizKids (see 'Joe Hauck, EVP of WizKids on Internet Retailing'), Jay Tummelson of Rio Grande (see 'Jay Tummelson, Owner of Rio Grande Games, on Internet Retailing') and Loren Greenwood of Wizards of the Coast (see 'Loren Greenwood, President of Wizards of the Coast on Internet Retailing').
This issue of the ICv2 Guide also includes ICv2's best-in-the-business bestseller lists in five game categories, as always. Here are the ICv2 Top Fives (longer lists are available in the magazine):
ICv2 Top Five CCGs
Pokemon
Yu-Gi-Oh!
Magic: The Gathering
Naruto
World of Warcraft
ICv2 Top Five CMGs
Star Wars CMG
Dungeons and Dragons Miniatures
HeroClix
HorrorClix
Pirates
ICv2 Top Five Non-Collectible Miniature Games
Warhammer 40,000
WarMachine
AT-43
Hordes
Dark Heavens Legends
ICv2 Top Five Board, Card, and Family Games
Settlers of Catan
Tide of Iron
Ticket to Ride
Carcassonne
World of Warcraft
ICv2 Top Five RPGs
Dungeons & Dragons
Star Wars RPG
Warhammer Fantasy
World of Darkness
Scion
For info on how to get your copy of the ICv2 Guide #46--Games, with the full market reports, coverage of the Supreme Court decision, bestseller lists, and reviews, see 'ICv2 Releases 'ICv2 Guide to Games' #46.'