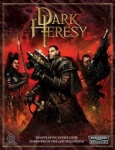 Fantasy Flight Games has announced its initial releases in the roleplaying games that it has taken over from Games Workshop's Black Industries and in the UFS collectible card games acquired from Games Workshop subsidiary Sabertooth Games (see "Fantasy Flight Gets Games Workshop's RPGs, Board and Card Games").
For Dark Heresy, which is the RPG based on Warhammer 40K, Fantasy Flight has a revised reprint of the Dark Heresy Core Rulebook ($59.95) coming this summer along with the Dark Heresy Gamemasters Toolkit ($19.95), and in late summer Disciples of the Dark Gods ($44.95).
For the Warhammer Fantasy Roleplay game, which is based on the medieval fantasy Warhammer Tabletop Miniature Game, Fantasy Flight has two new 2008 releases—Shadows of Empire ($29.95) set for release this summer followed by Tomb of Thieves ($29.95) in the fall.
FFG, which is maintaining Sabertooth's hobby-only distribution for the UFS CCG, has two UFS booster display releases set for June, Darkstalkers: The Realm of Midnight ($79.92), and Street Fighter: Deadly Ground ($79.92). FFG also has Street Fighter: Domination Starter ($79.92) and Booster ($83.76) Displays and SNK: Cutting Edge Starter ($79.92) and Booster($83.76) Displays available, and has planned its releases of new UFS sets through February, 2009. The Universal Fighting System (UFS) combines characters from different video game universes including Street Fighter, Soulcalibur, Darkstalkers, King of Fighters and Samurai Shodown in a unique system that allows unviersal conflicts among the disparate partcipants.