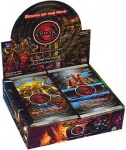 4Kids Entertainment has reported sales of some $7.3 million in sales of the Chaotic Trading Card Game for the third quarter, which boosted the company's total Q3 revenues from $12.2 million in the third quarter of 2007 to $17.8 million. However the company's loss for the quarter also grew from $4.2 million in 2007 to $5.3 million in the most recent quarter. Still 4Kids CEO Al Kahn predicts that "we currently expect to return to profitability in the fourth quarter of this year."
Through the first nine months of the year 4Kids has sold approximately $14.7 million worth of Chaotic Trading Cards and is, according to Kahn, "still on track to meet our previously announced financial targets of $20-$30 million in Chaotic TCG sales for 2008." 4Kids is stoking Q4 demand for the Chaotic TCG with the release of the M'arrillian Invasion Starter Decks and Booster Packs as well as the first ever Chaotic Collectible Tin and Scanner Deck. 4Kids now believes that Chaotic is the #3 TCG in the marketplace, after Pokemon and Yu Gi Oh!, although the Naruto CCG is certainly close.
In a conference call with analysts Kahn also announced that 4Kids had concluded a deal with Playmates Toys to create a series of toys based on the new Yu-Gi-Oh! 5Ds cartoon series—and that 4Kids had also reached an agreement to extend its North American representation of the Yu-Gi-Oh! property until 2015.
Finally Kahn also announced the settlement of litigation with the Fox TV network that will allow 4Kids to end its Saturday morning programming obligations with Fox on December 31st, 2008, and terminate 4Kids' financial obligations to Fox that were to extend through the first nine months of 2009. This will allow 4Kids to concentrate its efforts on its 5-hour Kids' WB Saturday morning block on the CW network. The deal with the CW is considerably cheaper for 4Kids than its now terminated agreement with the Fox network.