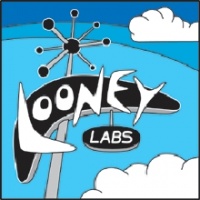 Looney Labs has announced a new Demo Kit Program designed to create awareness and excitement at the retail level for new game launches. Retailers will be able to pre-order Demo Kits through their game distributors or directly from Looney Labs, and the kits will arrive three-to-four weeks before each game is released.
Looney Labs first Demo Kit, which is available now, is for the eagerly-awaited party game, Are You the Traitor?, which is due to street on July 10th. The Are You the Traitor? Demo Kits, which have a net cost of $14, includes a demo copy of the game, 100 punch-out promo card postcards, an 11" x 17" poster, a pre-order sign-up sheet for store customers, a sell sheet with key selling points, and Looney Labs Product Line sell sheet.
Looney Labs is also sending free Sales Rep Kits to each of its distributors. The Sales Rep Kits include advance demo copies of the game for each sales manager and sales representative.