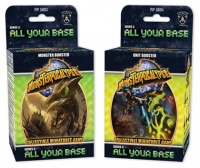 Monsterpocalypse CMG Series 3: All Your Base
Privateer Press
Release Date: July 10, 2009
Monster Booster (PIP 50013): $15.99
Unit Booster (PIP 50014): $12.99
Home is where the hurt is!
Monsterpocalypse Series 3: All Your Base
expands your game with faction INSTALLATION buildings and the all new MORPHER monster type: four small figures that become one giant monster! These new figure types present incredible new strategies and options to help you smash the competition.
All Your Base expands each of the six factions--G.U.A.R.D., Terrasaurs, Lords of Cthul, Planet Eaters, Martian Menace, and Shadow Sun Syndicate--with one new metamorph monster, three new units, and six faction specific installation buildings (one per faction).
Monster Booster
(PIP 50013) contains random set of 4 morphers and corresponding metamorph hyper form.
Unit Booster
(PIP 50014) contains 4 random units and 1 random Installation.
Description of preview: Six miniature game pieces (w/ stats)
Next Page (Page 2)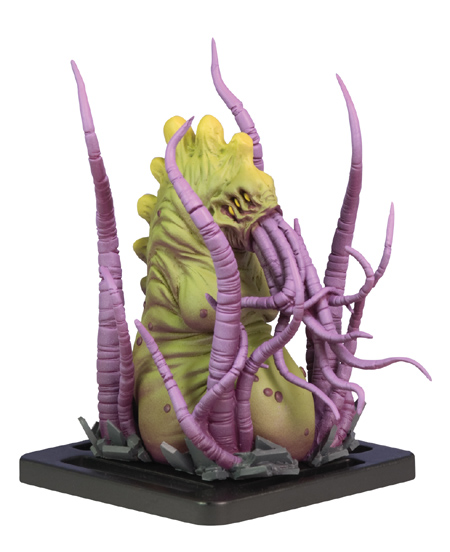 Next Page (Page 2)
| | |
| --- | --- |
| NAME | Ultra Ancient Osheroth -- #32 |
| Figure Type | Monster |
| Faction | Lords of Cthul |
| Agenda | Fiends |
| Speed | 6 |
| Defense | 7 |
| Brawl | 7 |
| Brawl Boost | 4 |
| Blast | 6 |
| Blast Boost | 1 |
| Range | |
| Power | 8 |
| Power Boost | 3 |
| Health | 6 |
| Energy/Cost | 3 |
| Abl1 | Telekinesis |
| A1 Range | Global |
| Abl2 | Radial Attack |
| A2 Range | |
| Abl3 | Annihilate |
| A3 Range | |
| Abl4 | Sacrifice |
| A4 Range | |
| Abl5 | |
| A5 Range | |
| Abl6 | |
| A6 Range | |