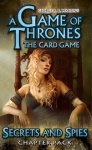 Fantasy Flight Games' September release schedule includes expansions for two LCG lines plus the U.S. DVD release of a movie based on FFG's Midnight role-playing game, the company's first foray into feature filmmaking.
Fantasy Flight's two living card games will each see an expansion in September. Billed as "the most deceitful Chapter Pack ever," Secrets and Spies is the fifth installment of A Game of Thrones: The Card Game, adding 40 new cards (20 unique) to the game. Call of Cthulhu: The Card Game's second Asylum Pack, In Memory of Day, also adds 40 cards, introducing the "Day" side of the Day/Night mechanic. Each expansion pack contains all the new cards in the set and retails for $9.95.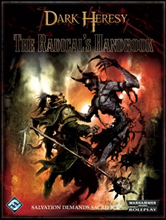 The Radical's Handbook
(MSRP $49.95) explores the dark side of the
Warhammer 40,000
universe's most dangerous factions. This source book for the
Dark Heresy RPG
includes detailed information on the factions, background packages and character options for faction members, and campaign advice for incorporating the radical factions into an existing campaign.
Finally, Fantasy Flight will release Midnight Chronicles ($14.95) in the U.S. for the first time in September. Based on FFG's Midnight RPG, the DVD release is the first feature film from FFG, set in a world where the dark god Izrador rules over all. The DVD, currently available in Europe, Asia, and the Middle East, includes several extras, such as a behind-the-scenes "making of" documentary, deleted scenes, director's commentary, and more. Also included is an exclusive adventure for Midnight players, based on the events of the film.