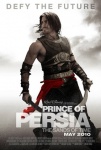 McFarlane Toys has obtained the rights to produce toys based on the Prince of Persia: The Sands of Time feature from Disney Consumer Products. The release of the toys will be timed to coincide with the film's release Memorial Day weekend 2010 (see "Disney Moves Prince of Persia to 2010").
Among the products planned are 4" action figures ($7.99 MSRP), 6" deluxe action figures ($9.99), horse boxed sets ($14.99), movie play sets ($19.99), and The Dagger of Time Collectable ($9.99).
Todd McFarlane is producing the cover for the Disney Book graphic novel prequel for the film (see "Disney to Publish Prince of Persia Prequel").