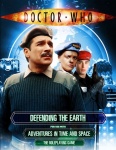 Cubicle 7 has announced an April 2010 release date for Defending the Earth, a boxed roleplaying supplement for the Doctor Who: Adventures in Time and Space RPG (see "Doctor Who: Adventures in Time & Space RPG"). Written by Doctor Who RPG designer David Chapman, this expansion will enable players to include the secretive UNIT in their campaigns.
Fans of the classic British sci-fi television series Doctor Who have long known about UNIT: the "Unified Intelligence Taskforce." In the series, UNIT is a global military organization created to protect the earth from alien threats. Fans of the show who want to learn more about the secretive organization will also be interested in this set.
Inside the box will be a 160 page sourcebook with information about UNIT, its history and organization, statistics for major UNIT personnel, and rules for creating and playing UNIT characters.
In addition, there is a 32-page adventure book with a complete ready-to-play adventure and additional ideas for players to create their own scenarios.
Defending the Earth will have a suggested retail price of $39.99.