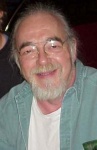 The Gen Con auction, to be held at the annual show in August, will offer attendees the opportunity to support the Gygax Memorial Fund. The Gygax Memorial Fund was set up by the late Gary Gygax's widow Gail to raise funds to erect a memorial to Gygax in Library Park in Lake Geneva, Wisconsin. The memorial will include a bronze bust of Gygax set on a castle turret with a dedication plaque (all plans are pending final approval of the Lake Geneva City Council).
Personal items that belonged to Gygax are being donated to the auction by his widow.
In addition to co-creating Dungeons and Dragons, Gygax founded Gen Con in Lake Geneva, holding the first meeting in his house.