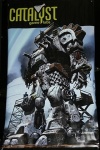 ICv2 has learned that Catalyst Game Labs has contacted distributors and given them a list of Shadowrun game products produced by CGL that can no longer be sold effective immediately. ICv2 had previously been informed that Cthulhu Tech items produced by CGL were also involved. Randall Bills of CGL has told ICv2 that "there has been no halt to sales of any Cthulhu Tech products." Bills also informed ICv2 that the reason for the halt in the sales of the select group of Shadowrun products was "due to on-going negotiations between Catalyst and its freelancers," and not to any problems with the rights to the property, which is still licensed to CGL.
Earlier this week Catalyst Game Labs issued a statement admitting that a detailed review of the company's finances had found that "business funds had been co-mingled with the personal funds of one of the owners." The statement goes on to say that the owner has "willingly participated" in the investigation and "now owes the company a significant balance and is working to help rectify the situation." Catalyst is "working with our partners and freelancers to remedy any back payments that may also be due."
The Catalyst statement also addressed the effect of the revelations on some of the company's employees, "We understand that for a few employees the news was too stressful and we wish them all the best in their new endeavors." Rumors on message boards put the quantity of money that turned up missing in the audit, which covered company activities for the past three years, at $850,000, though that figure has not been confirmed by Catalyst Game Labs.