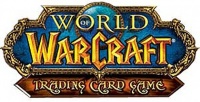 Ending the suspense (see "
Wow TCG to Continue
"), newly formed Cryptozoic Entertainment announced that it has signed a multi-year licensing agreement with Blizzard Entertainment for the
World of Warcraft Trading Card Game
.
Cryptozoic has a lot of familiar names among its top execs.
John Nee, formerly DC Senior Vice President of Business Development (see "
John Nee Resigns from DC
") is CEO; Cory Jones, formerly Blizzard's lead business and development liason for the game, is President and Chief Creative Officer; and Scott Gaeta, formerly Director of New Business Development for Upper Deck, is Chief Operating Officer.
The game will remain the same as it was when published by Upper Deck (see "Upper Deck Off WoW TCG"); organized play will also continue.
The first WoW TCG release from Cryptozoic will be the Wrathgate boosters in May, followed by the Class Decks in June. Continental Championships will be held in June; the World Championship in August.